Dorrith Sim's autobiographical story and our unique creative art project, suitable for 8 to 12 year old upper primary school children, was successfully launched around Australia this March.
Each student who participates receives their own mini copy of In My Pocket which the WE ARE HERE! Foundation provides free of charge.
The project speaks to the current situation of refugees and displaced children around the world.
This simple yet uplifting true story of rescue, survival and hope provides a springboard to the solemn topic of the Holocaust, usually studied in high school.
We provide detailed guidelines and resources on all aspects of the In My Pocket project, including suggested questions, and a video of the pocket making activity, and art workshop.
Moriah College Sydney
Masada College Sydney
Bentley Primary School Year 5 – 16 October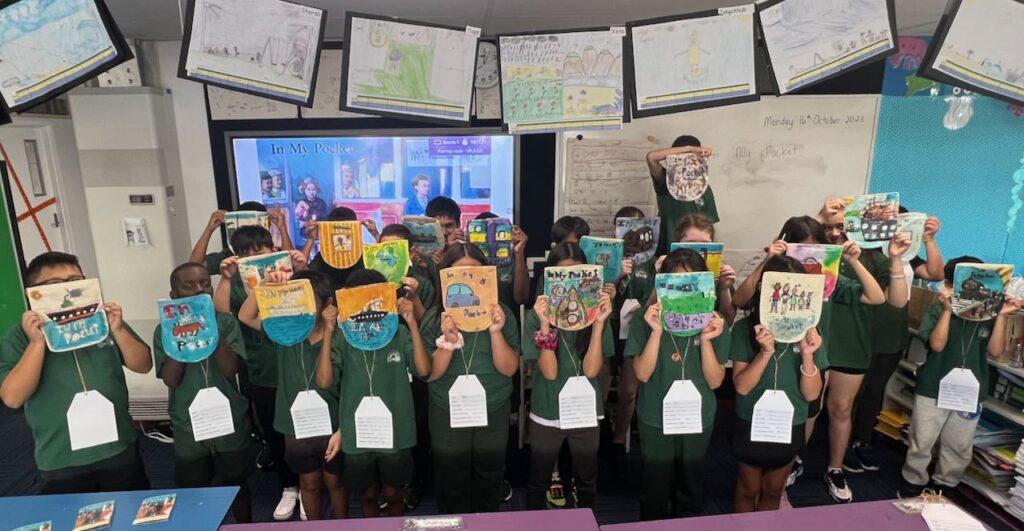 Bentley Primary School Year 6 – 17 October
Secret Harbour Primary School – Yr 5/6 Room 29 – 13 October
The Teachers
The Principal
Dear Eli and Jill,
Thank you so much for providing such a worthwhile and thoughtful, cultural art and literature experience, IN MY POCKET, for our children at Secret Harbour Primary School. I love and appreciate the work that has gone into creating such a positive opportunity to develop empathy, kindness and inclusivity for our students, (and many other children across Australia.) You are amazing and I wish you all the best in the future with your project. I will certainly pass on the website to other schools, with my warmest recommendations.
Kind regards,
Kim Blacklock – Associate Principal
Secret Harbour Primary School – Yr 6 Room 26 – 13 October
Beechboro Primary School Yr 6 – 12 October
Beechboro Yr 5/6 – 11 October 2023
Secret Harbour Class 27 – 10 October

Secret Harbour Class 30 – 10 October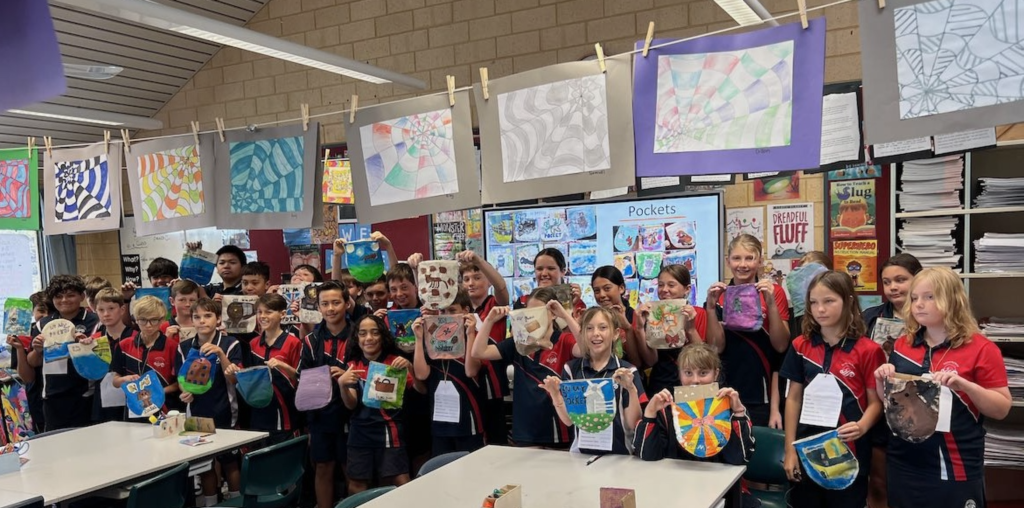 Bayswater Public Library
Hi Jill and Eli
"The In My Pocket workshop is a wonderful opportunity for children to go along on a journey where they can gain insight into the experiences of a refugee child and imagine themselves in their shoes. Jill lead a discussion that provoked thoughtful responses from the children and helped them to understand the context of the story. The children were able to be creative and express themselves in the creation of their pockets and produced some amazing pieces!"
Thanks
Jac – Manager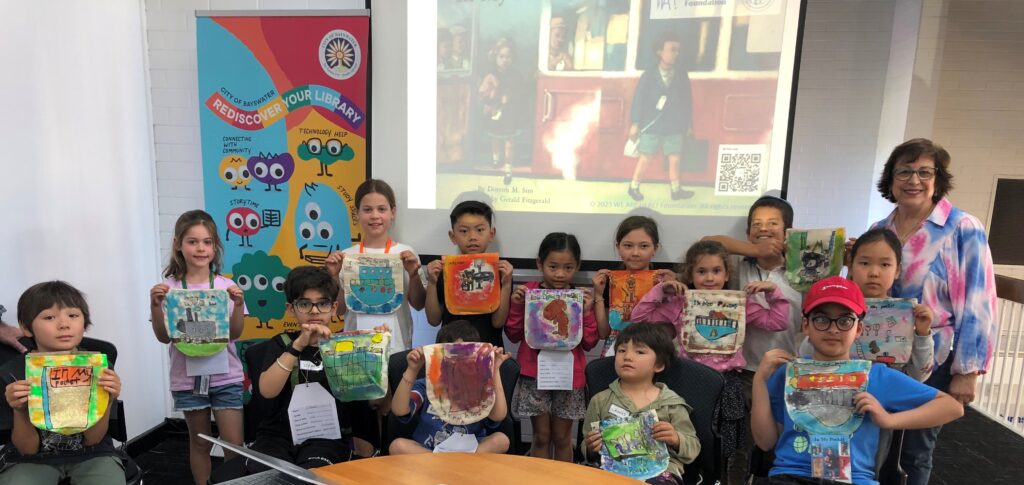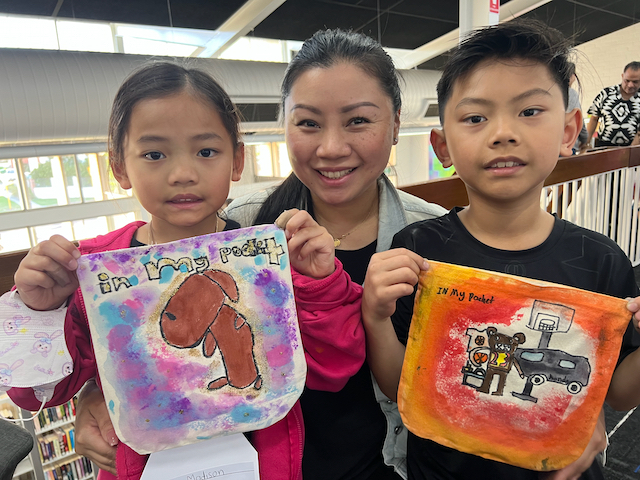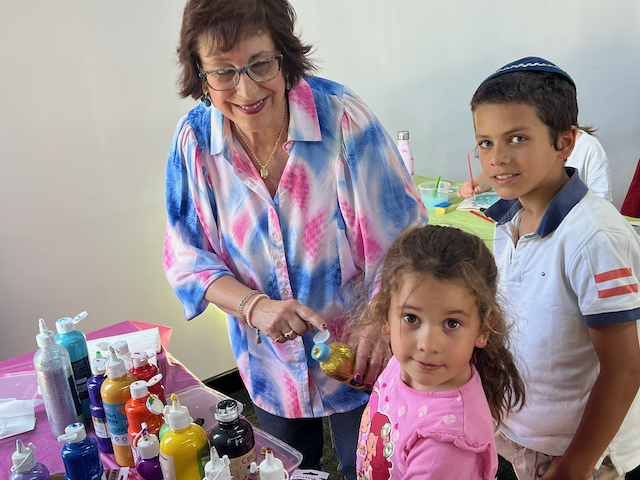 Maylands Public Library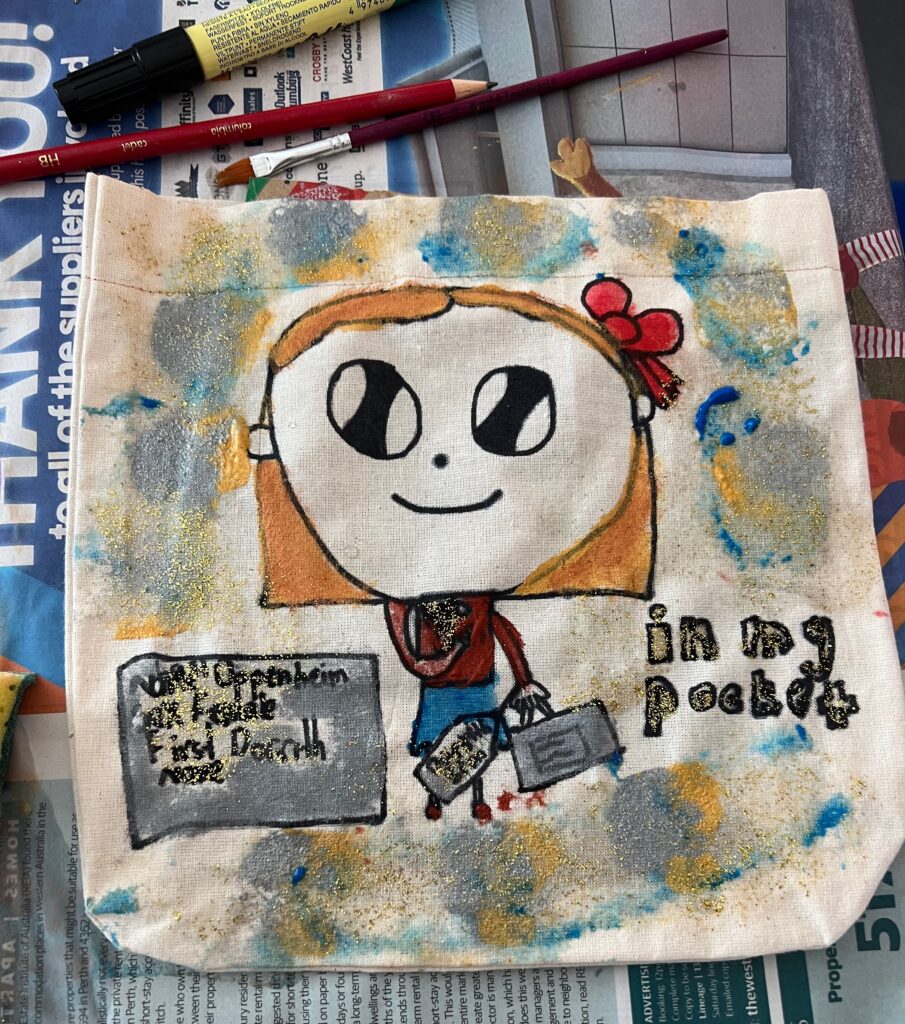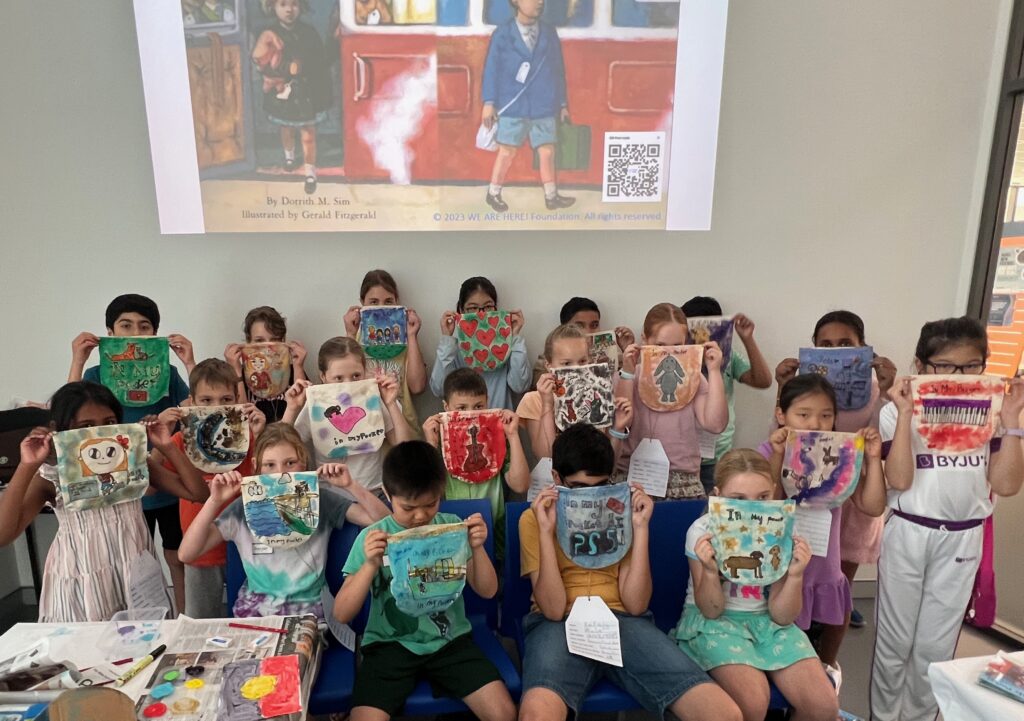 Creative calico pockets painted by Maylands Peninsula PS Year 6 students
Catherine Baron, Principal, Lakeland Senior High School; President of HTAWA and HASS Connect Primary Schools:
WE ARE HERE! Foundation
In My Pocket is a free two-hour workshop of a book reading and a related art & craft activity for upper primary classrooms (Years 5-6). It sits beautifully with the HASS units that focus on migration, as well as with themes of inclusivity, multiculturalism and diversity.
They would like to offer these free incursions to primary schools where they would facilitate the workshop with teachers present to supervise. They provide the calico pockets and the free mini copy of In My Pocket for each student. Most classrooms have art equipment and paints but they can supplement.
Alternately, if the school prefers to run the project themselves, they can provide the lesson plans and resources, etc, and the free mini books. They offer a zoom training session, too.
Flyer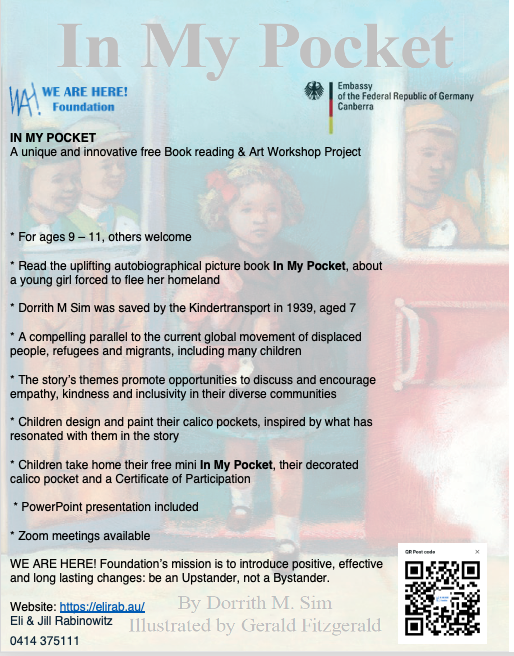 West Coast Steiner School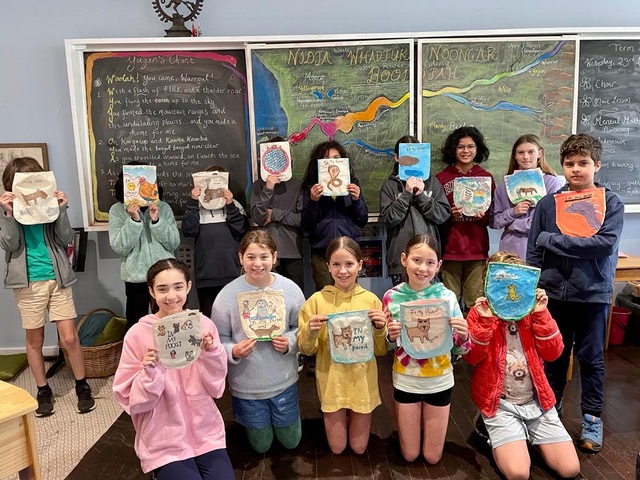 Year 5 teacher, West Coast Steiner School, Perth:
Book Week literacy incursion: We are Here!
Class 5 at West Coast Steiner School was extremely fortunate to enjoy a Book Week literacy incursion from the We are Here! Foundation. We studied an autobiographical story written by the late Dorrith Sim, one of ten thousand Jewish children rescued from Germany by the Kindertransport charity before World War Two broke out. Dorrith's inspiring story, "In my Pocket" described her experience as a seven year old travelling to her adoptive family in Scotland, the inclusivity and belonging extended to her by strangers, and the strategies she used to learn the English language where she would store each new word in a "pocket" in her memory.
After discussing the story and illustrations, the children designed and painted their own pockets containing those things most precious to each of them. They then wrote reflective thank you cards for the organisers, Jill and Eli Rabinowitz. Please enjoy a glimpse into the children's insights from their thank you reflections:
"I learned that you can find light even in the darkest of places." – Liam
"I think what people can learn is simple but beautiful: people who haven't been through it can learn to support others, while people who have been through it can let it out and relate to others." – Nalina
"One of the ways you can learn is that you have to be respectful of people because of their history and backgrounds, they might be carrying sadness about it." – Matilda
"I think that Dorrith felt like children should know what is happening in the world, and I agree." – Harriet
"The story tells people that kindness from strangers can really save a life…Dorrith used her "pocket" to store precious memories while focusing on the present." – Norah
"think it's important for people to learn about how refugees might be feeling and how they can help." – Austin
"Nothing is impossible if I try! I think the story started out sad, but had a happy ending. I love happy endings!" – Eduarda
We extend our heartfelt gratitude to Jill, Eli, and the We are Here! Foundation for providing such an engaging, thought-provoking and heart-warming incursion for the children.
South Perth PS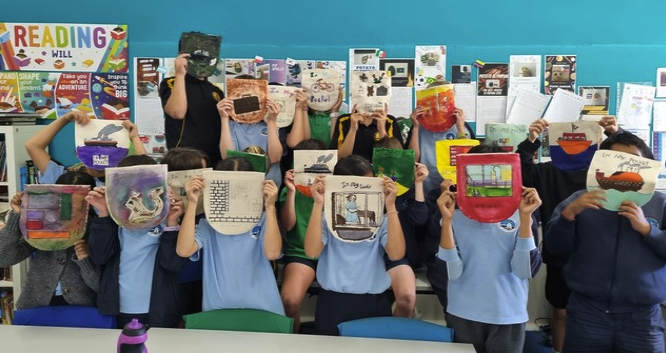 Year 5/6 Teacher, South Perth PS:
This afternoon, Room 10 welcomed guests, Jill and Eli, into our classroom to host an incursion. It ran for two hours, which allowed time for reading and discussing the short story, 'In My Pocket', and then the art component, designing and painting calico pockets.
In terms of curriculum, this activity links with our HASS units that focus on migration, as well as with themes of multiculturalism and diversity. The kids all enjoyed hearing the story and Jill had some challenging questions that required them to think critically about the text and the illustrations. I loved the theme of kindness and spotting the acts of compassion along the way. In terms of the focus on inclusivity in our diverse community at South Perth PS, this workshop delivers!
The session helped develop a greater sense of empathy for people displaced from their homes by war, discrimination and natural disasters. The kids enjoyed painting the pockets with designs that were inspired by the story.
Each child received a mini version of the book that they will hopefully share with their family at home.
Our pockets are drying at school, but here is a sneak peak. I think they look amazing!
Maylands Peninsula PS Perth
Kesser Torah College Sydney
Creative Art Workshops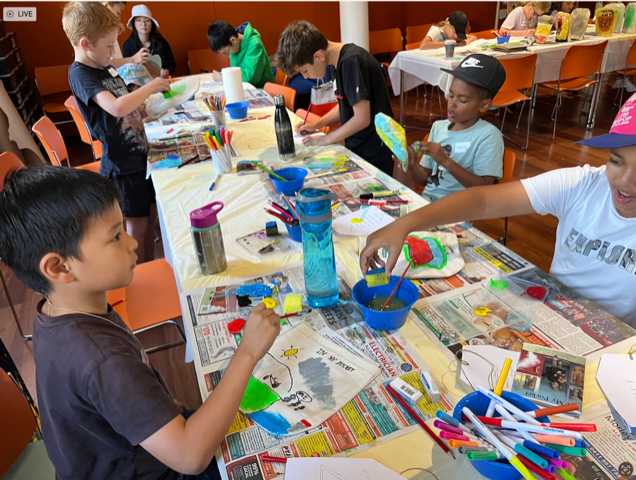 South Africa
Please share the QR code for this post
Coming up in these school holidays – at Maylands and Bayswater Public Libraries. Not to be missed!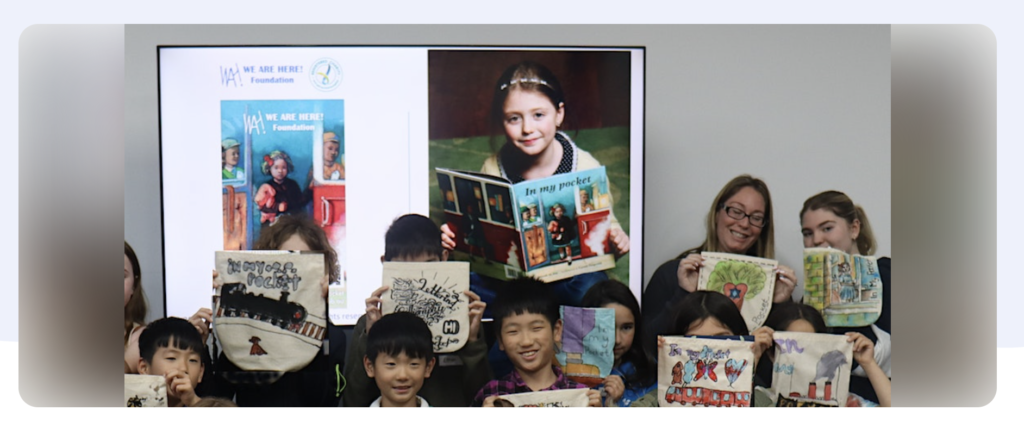 https://www.eventbrite.com.au/…/australia…/in-my-pocket/
The Volunteers